Do you want something new and sizzling for your next festive occasion? Then you have landed on a perfect page on perfect time. Enriched texture, luscious meaty flavor, along with spicy seasoning is something that no one can resist.
So do not look forward and let your nerves suck up the content of this article to commence your cooking revolution. This winning choice of turkey for your next dinner party with your loved ones will bring spectacular view and ultimate look to your table.
Let's begin your delectable way to the scrummy and yummy taste of rich smoky flavors of turkey.
First, we are going, to begin with, "How to Smoke Turkey in an Electric Smoker?"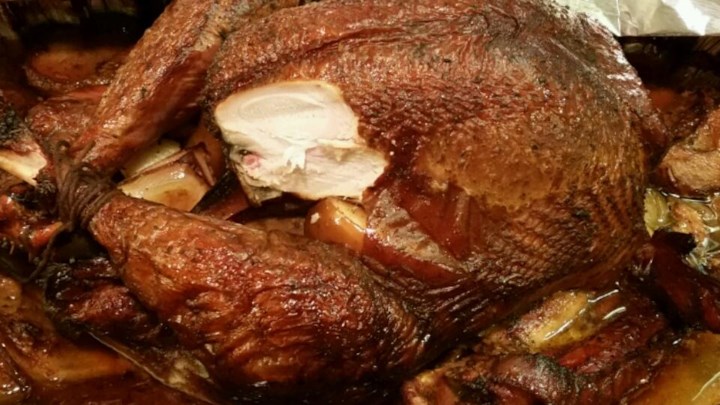 Let me remind you that even a full-fledged barbecue grill is not going to help you cook that big piece of scrumptious bird. So an electric smoker is a best and most preferable choice for this purpose.
One of the best electric smoker and reviews: Masterbuilt 20077615 Digital Electric Smoker
Here is your method for freshly smoked super-tender turkey that is sure to impress everyone:
Steps and Guidelines to Smoke Turkey
Step 1 – Thaw it
The first thing that you must take care of is to not cook a frozen turkey. Do remember to cook a thawed turkey.
Step 2 – Clean it
At the second step, you have to clean your turkey properly. Begin it by removing the gizzard, neck, and various other parts that are inside the turkey.
Step 3 – Brine it
Before smoking your golden bird, you have to brine it in a neat manner. For this, submerge the turkey in the mixture of water and kosher salt. This process will break down the muscles while tendering the meat and enhancing its moisture absorption.
Step 4 – Rinse it and Dry it
After removing the bird from brine, you have to rinse it in cold water. While rinsing it make sure to rinse the body cavity too.
After rinsing, let it dry for 12 to 24 hours for making sure that salt and flavors properly disperse through the meat.
Step 5 – Season it
For smoking a whole turkey, season it with a mix of spices and herbs. Go for dry rub in the cavity while wet rub on the outside.
Step 6- Smoke it
Time to smoke bird!
Preheat the smoker to 225 degrees Fahrenheit and then oil the grade to avoid the sticking of turkey. After that, add your bird and put a temperature probe into the breast. Let it smoke to the desired temperature and then remove it carefully.
Plan ahead! This tongue swirling recipe requires brining overnight.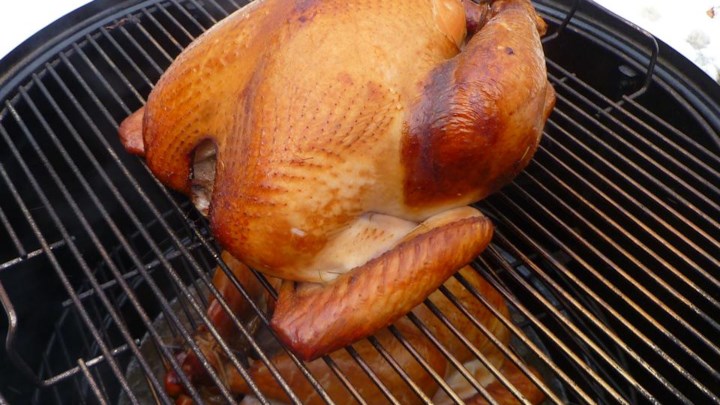 Recipe to Make Turkey in an Electric Smoker
Check out this recipe to make an appetizing and succulent turkey:
Ingredients
50/50 water and apple juice
1 full turkey
Your favorite marinade
Butterball Buttery Creole
Seasonings and marinades
Butterball Cajun Seasoning or any favorite Cajun seasoning
Process
1) Fill up the water tray with the mixture of water and apple juice and water. Then preheat smoker to 275 Degree Fahrenheit.
2) After that rinse your thawed turkey properly and dry it with the towel. Now, with the help marinade injection syringe, inject your turkey with Butterball Buttery Creole Marinade.
3) Now comes the seasoning, season that big scrumptious bird Butterball Cajun Seasoning by rubbing it into the turkey skin.
4) Then, place that turkey on middle rack in smoker and smoke it for 5 1/2 hours.
Read more:
Serving Suggestions
Smoked turkey is a soul-striking treat for your special guests and loved ones. The smoked turkey is the perfect choice for a traditional Thanksgiving meal or any other meal. You can pair it up with the mashed potatoes, beans, corns, as well as homemade bread.
When sliced thin and served chilled on an assortment of cheese, it will make a great luxury dining dish. For beautiful finishing, top these off thin slices of tomatoes, shining black olives, and a bit of avocado.
Smoke it slowly! Low and slow is the key secret to a greatly smoked turkey.
Give it a try! You will surely be impressed a lot.
Smoked Turkey Benefits
The above recipe is a must try for every turkey lover. It not only tickle up the taste nerves of your mind but will also load your body with lots of healthy nutrients.
– As Turkey is high in protein, so it will make you feel full for longer time period.
– The lean muscle mass helps to stable the insulin level of the body.
– Turkey is also enriched with B-6 and B-12 vitamins, as well as zinc and choline.
The breast of the turkey has fewer calories than most of the cuts of the meat, so you can go for turkey breast also.
So eating turkey will bring you a lot of health benefits along with the luscious taste of the meat. Rest all depends on you that how much spiciness you can bring into this golden bird with the fusion of multiple herbs and spices.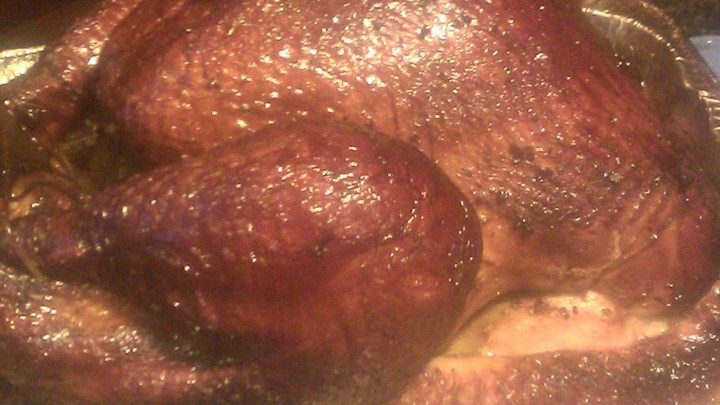 Tips for smoking turkey in an electric smoker
Here is the answer to very frequent answer of every new smoker "How to Smoke Turkey in an Electric Smoker?"
Pick the Right Smoke
First and foremost, you must be fully familiar with your smoker. Turkey can absorb smoke faster than red meat, so it's imperative to use mild wood chips for smoking. Now you might be wondering how one can use wood chips in an electric smoker. Many modern smokers are fully designed for this purpose and they can really help to attain the rich smoky flavor of the turkey.
Some of the popular choices of wood for electric smoker includes alder, cedar, cherry, plum, maple, and hickory.
Pre-season Smoker
Masterbuilt electric smokers come with water pan as water helps to tenderize meat with its steam. Before you fill your smoker with water, make sure to pre-season it for best performance.
For instance, set your electric to a specific degree and then allow it run at that temperature for one hour. After half time, add wood chips to the tray and when the time is done, then let it cool down.
Preheat the Smoker
The one most common and prominent rookie mistake that most of the people do is to put meat too early. Before smoking your turkey, don't forget to turn your electric smoker to the desired temperature. When your wood chips start to become ash along with a thin blue smoke, then consider it the good time to begin your smoking.
Spatchcock the Turkey
Spatchcocking the turkey is surely worth the extra time as it will absorb more smoke due to the extra surface area. Moreover, the bird will cook at much higher speed while maintaining its full smoky flavor.
For spatchcocking the turkey, cut out the spine and remove the breastbone so that the turkey can lay flat.
Guidelines to use a new smoker
Best way to clean a smoker
Every brand new smoker needs to be cleaned for ensuring the removal of machine oil. It also helps in rust prevention in long-term and also removes any insolvent left.
For cleaning the inside of the smoker, go for a mild detergent and water. Then rinse it all down with water and allow it to air dry. Use a soft sponge for carefully cleaning every part.
Dry Wood Chips or Wet Wood Chips
You can use both dry and wet wood in your electric smoker. Dry wood chips tend to burn much faster and thus bring intense smoke. So if you want to go for slow smoking, make sure it pre-soak your wood chips in water for approximately 30 minutes. Wet wood chips will produce less intense smoke as they burn slowly.
Ideal time to smoke a turkey
The time it takes to smoke a turkey can vary to different proportions. Smoking time of turkey depends on many different factors such as:
Temperature of the chamber
Size and shape of turkey
Outdoor temperature
Temperature of the turkey
The Wind and other weather conditions
How often the smoker is opened up while smoking
Turkeys can be smoked at the temperature of 225 degrees Fahrenheit, and on this temperature, it can take roughly 45 minutes or more. If the electric smoker is capable of heating up to more high degrees, then your turkey will take only 15 minutes per pound.
Get an electric smoker with thermostat and that can auto feed the wood.
The whole smoke ring thing of the electric smoker isn't exactly about flavor, just appearance. The source of the heat really doesn't matter in this case. What really matters is smoke flavor.
There are not any real benefits to messing around with tending a fire.
Read more:
Wrapping Up
The golden spicy turkey skin is a worthy piece for a grand festive event.
Electric Smoker has an excellent culinary standard for slow smoked turkey. Just plug it in, set the timer, and load with your favorite food.
If you are the first smoker, then your mind probably asking the one same question repeatedly that is "How to Smoke Turkey in an Electric Smoker?" So did this help?
I am sure these tips are surely going to make your turkey making an easy, fun, and enthusiastic process.
Cheers
Happy Turkey Smoking.